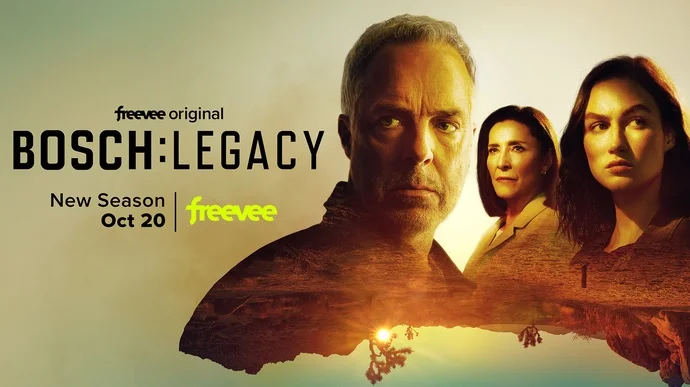 If you thought that Bosch: Legacy and the Jerry Edgar series (in development) were the only Bosch spin-offs out there, think again. Today, Prime Video has announced that they have greenlit a new, ten-episode series featuring a different character, a specific division of the LAPD, and also another connection to Harry Bosch himself.
Want to learn a bit more? Then check out the official logline here below:
The Untitled Renée Ballard series follows Detective Renée Ballard, who is tasked with running the LAPD's new cold case division—a poorly funded, all-volunteer unit with the largest case load in the city. Ballard approaches these frozen-in-time cases with empathy and determination. When she uncovers a larger conspiracy during her investigations, she'll lean on the assistance of her retired ally, Harry Bosch, to navigate the dangers that threaten both her unit and her life.
SUBSCRIBE to Matt & Jess on YouTube for upcoming videos on BOSCH: LEGACY season 2!
Michael Connelly will once again serve as executive producer for this project, as he does the entire Bosch universe; meanwhile, Michael Alaimo (The Closer, The Man Who Fell To Earth) and Kendall Sherwood (Major Crimes, Your Honor) will serve as showrunners.
In a statement, here is what Lauren Anderson, head of AVOD originals, unscripted, and targeted programming at Amazon MGM Studios, had to say:
"From books to screen, Michael Connelly creates authentic and suspenseful stories, led by distinctive characters who make audiences care and connect. Renée Ballard is one of those characters. She instantly captivated readers with hints of a troubled past and a protective layer of idiosyncrasies she developed to survive. We look forward to expanding the Bosch universe with Michael and introducing viewers to Ballard's personal approach to pursuing justice."
Meanwhile, Connelly added the following:
"It is so exciting to bring Renée Ballard to the screen and to do it with Prime Video, my streaming partners for going on 10 years. This show will have the same authenticity and propulsive momentum of Bosch: Legacy. Fans of the books will love it."
For those unaware…
Bosch: Legacy season 3 is going to be premiering on Prime Video when we get around to 2024, or at least so we hope. Filming could be kicking off before too long!
Related – Check out our new interview with Titus Welliver and Mimi Rogers about Bosch and Chandler's future — could they get together?
What do you think about Bosch: Legacy getting another spin-off?
Share right now in the comments! Once you do just that, keep coming back to get some other updates.
This article was written by Jessica BunBun.