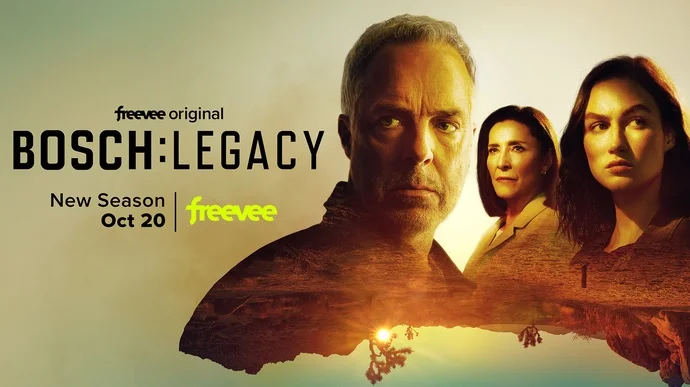 In coming out of the Bosch: Legacy season 2 finale here on Freevee, there is no question that we have a pretty huge cliffhanger. Who is at the center of it? Of course, a part of it is Harry Bosch, but at the same time we can't just forget about his daughter Maddie and what she heard on the phone.
In the closing minutes of episode 10, Maddie answers a phone call from prison meant for her father. Preston Borders is on the line, making it clear that the Kurt Dockweiler situation has been taken care of. So what does that mean? Did Bosch order a hit on the guy responsible for Maddie's trauma? It's a fascinating thing to think about, as this could be something that really severs trust between father and daughter for quite some time.
SUBSCRIBE to Matt & Jess on YouTube for upcoming videos on BOSCH: LEGACY season 2!
In reacting further to this big finale in a new interview with TV Insider, here is at least some of what executive producer Michael Connelly had to say:
First I think, "You poor girl. What you've been through. Now can you even trust your father?" That's what we went out with. We went out with an action cliffhanger in the first season, and this is more of an emotional one. For nine seasons they had a pretty straight father-daughter relationship, emotional at times, but mostly a mentorship. Again, we always have to pivot. We wanted to start the third season with their trust issues and see their relationship in a different light. A fractured light.
Do we know that Harry Bosch is a pretty morally complex guy, someone 100% capable of crossing some lines? Absolutely, but we also tend to think that this situation is a little bit more complicated than it seems. Having a guy killed is a pretty big extreme, and having Maddie find out about it would also force her into carrying a big secret. At this point, we are one to think that everything is more complicated than it seems.
Related – What is next for Honey Chandler moving into Bosch: Legacy season 3?
What do you think about the big Bosch: Legacy season 2 finale cliffhanger?
Share right now in the comments! Once you do just that, remember to keep coming back for other updates.
This article was written by Jessica BunBun.