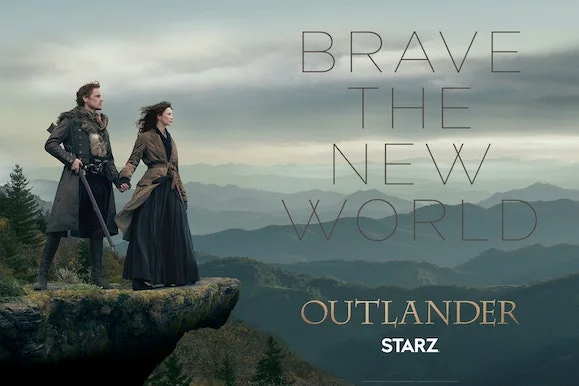 How about this for a rarity — an opportunity to share some Outlander notes twice in the same day! Within this piece, we've got some of the latest news to share via Sam Heughan and Caitriona Balfe, with a good bit of connected to some of their most noteworthy pursuits: Giving back to good causes.
Let's begin here with Sam, as another interview has surfaced around his My Peak Challenge Gala weekend — this time via STV News. As you can see below, Heughan details the strength of the movement and how Outlander has helped to fuel it and draw more attention to the great outdoors in Scotland … and then, of course, he's asked about James Bond and some apparent race between him and Richard Madden in order to land this role.
Is there really some sort of massive race for the role? Not really, especially since it could be well over a year until the next Bond is even announced. We know why Sam's asked about this so often, mostly because he's got an action-hero look, his casting would be an homage to Sean Connery, and because it makes a quick headline and it's the sort of thing that plays well to mainstream viewers. Even if you don't know very much about Outlander, you can hear Heughan discuss whether or not he'll play James Bond. It's an easy sell.
For those who are wondering, Sam wishes Madden the best — the two know each other well, and Richard's certainly had an incredible past year thanks to his work on Bodyguard and the awards circuit that came about as a result.
As for Caitriona Balfe…
While Sam's work with My Peak Challenge helps to give back to charities including Bloodwise, his co-star is a patron for World Child Cancer and often does what she can in order to raise money for the group. That includes a new fundraiser. This is a way to give back as a part of a #WomanUp campaign, and there is also going to be a prize draw where the winner can receive either a pair of headphones form the Outlander season 3 wrap party or a pair of painted Vans trailers. Both items are signed by her.
Consider this an opportunity to give back to an organization that absolutely needs your support, and to go along with it, to have something priceless as a part of your Outlander collection. There are a lot of cool promotional items out here, but this is the sort of thing that is totally and wholly unique.
Photo: Starz.