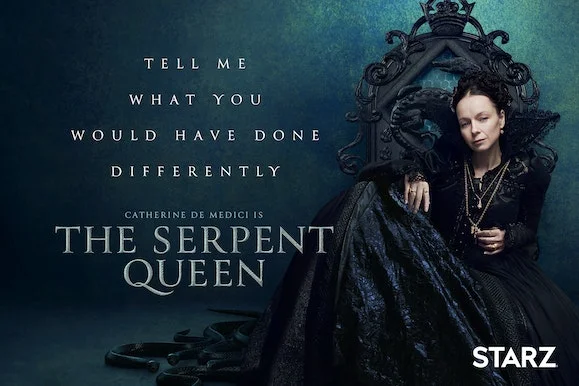 Are you looking for what happened when it comes to The Serpent Queen season 2 over on Starz? At this point, we more than understand! A long time has transpired since the first season premiered last year, and the historical drama did start production several months ago, well before the start of the WGA strike stateside.
With that in mind, what is the network waiting on? Well, we tend to think that this is a matter of waiting for the right time to get some of that news out there…
What we do tend to think at the moment is this: Starz is going to be careful in selecting the right time to put the Samantha Morton series back on the air. They will want to pair it with the right shows and find the best possible promotion for it. Pairing it perhaps with the second half of Outlander season 7, whenever that comes back on the air, feels like the smartest possible move that they could make at this juncture.
Now, one of the other things to take into consideration here is that the folks at the network do already have a pretty stacked roster of other shows that they have to be looking at right now. Take, for example, Hightown season 2, which finished production more than a month ago and yet, there is no clear premiere date for it. They've already announced some of their 50 Cent-produced shows going into March. For now, we don't anticipate that The Serpent Queen will be back until at least then, but it could be even longer — think in terms of next summer.
If you did love the first season, we do tend to think the next batch of episodes will be worth the wait. From the start the focus for Starz with these historical dramas has been to produce some high-quality and thought-provoking stories, and we have a hard time thinking that this has changed.
What do you most want to see leading into The Serpent Queen season 2 at Starz?
When do you think it will actually return? Be sure to sound off now in the attached comments! Once you do just that, remember to come back for some other updates.
(Photo: Starz.)