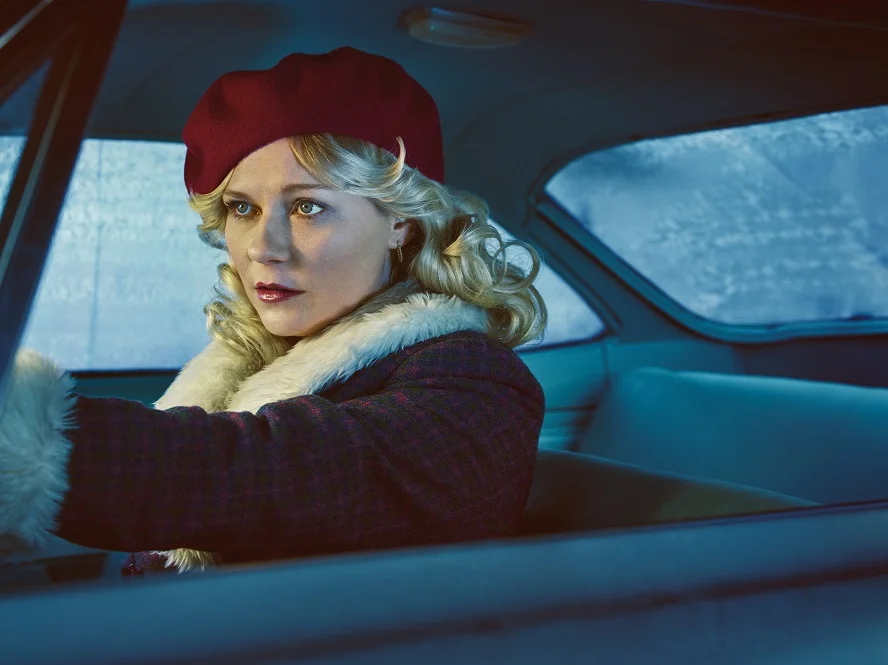 After watching "Fargo" season 1 we just couldn't wait for more! Unfortunately there has been a very long wait for more episodes, but now we have finally made it to the premiere of season 2.  Since this is a prequel to what we saw in season 1, there won't be much of a connection between the two season except for Molly's father, Lou, as a much younger man (Molly is 6). That being said there is so much to look forward to and it all starts right now!
This season is about a local "mob" type family, the Gerhardt's, that has their hands in a lot of pies, but the youngest son, Rye Gerhardt, is having a hard time getting the rest of his brothers to take him seriously and he has a few big plans of his own. His plans involve investing in electric typewriters, but to do this he needs to help change the mind of a judge that has the power over a case that his partner needs dropped – this of course is going to be a challenge, so he follows her to the local Waffle Hut and tries to talk her into giving his partner a break on the case, but he ends up shooting her after she says no… as well as pretty much everyone at the Waffle Hut. After killing everyone Rye runs outside and after he thinks sees a UFO it's enough of a distraction that he doesn't see a car coming that runs him down.
Our two main cops, Hank and Lou are sent to the Waffle Hut and after a bit of casual conversation (Lou is married to Hank's daughter), we are able to see that they are pretty bright and were able to assess that Rye was stabbed, banged up by a car, and escaped. They start to think that there was a get away driver that helped the shooter escape, but really a woman named Peggy hit him and then brought him home. After her husband Ed stabbed him, he wants to call the cops and buy the butcher shop he works at, but she wants to clean up the mess and run to California. They decide to put the body in their freezer until they can figure out how to get rid of Rye's body.
Very fun premiere of the new season with lots of great characters that we already care about. It still has the same great feeling from season 1 that we loved and this cast is fantastic. Also it was great to see Ted Danson in a fun role like this after watching him be a serious as a heart attack for so many years on "CSI". Episode grade: A-
What did you think of the season 2 premiere of "Fargo"? Leave us a comment in the box below and tell us if you think the premiere lived up to season one of the show. (Photo: FX)